Invited Productions, Scenes, and New Plays
The executive committee of the regional board met on Saturday, December 14, 2019, to consider all of the participating productions in the region during 2019. We thank all the schools that entered shows. It was a long and difficult discussion. Here are the shows that have been invited to Festival 52: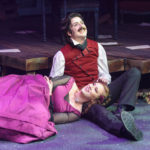 The House of Edgar Allen Poe
Book and music by Morgan Hollingsworth
Directed by Andrew Barratt Lewis | Music directed by Kenneth Plain
Weber State University (Utah)
Flamenco Macbeth
Adapted from Shakespeare by Perviz Sawoski
Directed by Perviz Sawoski | Co-coreography by Perviz Sawoski and Cihtli Ocampo
Santa Monica College (California)
Xanadu
Book by Douglas Carter Beane, Music and Lyrics by Jeff Lynne & John Farrar
Directed by Lori C. Siekmann
Concordia University, Irvine (California)
The Sandstorm: Stories from the Front
By Sean Huze
Los Angeles City College (California)
Criminal
Devised and created by members of the Experimental Theatre Laboratory
Los Angeles Southwest College (California)
Spring Awakening
Music by Duncan Sheik and Steven Sater based on the 1891 German play by Frank Wedekind
Directed by Jodi Julian
Riverside College (California)
Evening of Invited Scenes, Wednesday, February 12th
The Most Fabulous Story Ever Told
by Paul Rudnick
directed by Vanessa Pellegrini
East Los Angeles College
All in the Timing 
by David Ives
directed by David Seitz
Glendale Community College, Arizona
The Laramie Project
by Moises Kaufman and the Tectonic Theatre Project
directed by Laurie Harrop Purser
Utah Valley University
Fat Pig
directed by Bradley Myers
California State University Fresno
Voices of the Present
by Susan Glaspell, Luis Valdez, Amiri Baraka
directed by Christa Havenhill
Chaffey College
Bright Star
by Steve Martin and Edie Brickell
directed by Tony Espinosa 
Fullerton College 
Ladybird: A Holiday Posada
adapted by the ensemble and directed by Katherine Nigh
Pasadena City College
To the Moon
by 
Maxwell Plata 
Arizona State University
How to Save the Polar Bear 
by A.R. Corwin
Arizona State University
Because It's Sunny in L.A.
by Thaddeus Nagey
California State University Northridge
The Bright and Starry Pool
by Lauren Spielvogel
Arizona State University
Quiet the Noise
by Ty Halton
California State University Bakersfield
Magical Pixie Princess Fun Time Go
by Hamblet Lemus
Phoenix College
Alternates
Ponytails, Parents and a Wicked Right Cross
by Ty Hawton
Brigham Young University
Final Chapter
by Robert O'Brien
Mesa Community College
Idiot, I'm Great
by Savannah Spatafora
University of California Los Angeles
La Norteña
by Rodolfo Robles Cruz
California State University Fresno
Alternate
In the Silence
by Jarid McCarthy
California State University Fullerton
Region 8 Original Monologue Section
Attar of Roses
by Juliana Richards
Glendale Community College, California
Alternate
The Sinners
by William Huffaker
College of the Sequoias
Region 8 NAPAT Full-Length Play Nominee
Tambo & Bones
by Dave Harris
University of California, San Diego