Festival Parking Accommodations
Event Attendees may purchase a permit online by creating a guest account via the online link: 
https://csufparking.t2hosted.com/cmn/auth_guest.aspx
Three permit options are available to be purchased online include:
– 1-day permit: $10 
– 3-day permit: $30 (valid Wednesday, 2/11; Thursday 2/12; Friday 2/14) Saturday parking is free 
– 4-day permit: $40 (valid Tuesday, 2/11; Wednesday, 2/11; Thursday 2/12; Friday 2/14) Saturday parking is free 
Attendees will need to provide their vehicle information (plate number, make, and color). Guests are NOT required to print out the permit. Once the transaction is complete, the permit will be registered to the vehicle, and the enforcement team will recognize the digital permit. 
Parking on-campus will be available after 4pm each day. The parking pass will transfer to the parking structures. 
Festival Parking Accommodations
As mentioned in a previous newsletter, ongoing construction in one of the campus parking lots will make parking even more of a challenge for festival goers. What this means is that festival participants driving to the festival will not be able to park on campus lots on Wednesday, Feb 12 and Thursday, Feb 13 from 8am-4pm.  We have secured off-campus parking for those festival participants driving their own vehicles.  A parking pass can be purchased for $10 from the Visitor Information Center on Arts Drive and a map will be provided to the location. Once there, shuttles will be available to transport participants to the campus. This $10 parking pass is transferable to the campus if participants wish to park their vehicle on-campus after 4pm.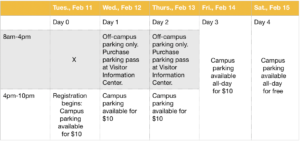 Some other alternatives to get to campus on Day 1 and 2 before 4pm:
Walk: Book your room at the Marriott or Holiday Inn to be within walking distance. Each of these hotels has free parking.
Shuttle: Book your room at the Residence Inn-Placentia. There will be a Festival Shuttle pick-up & drop-off site for Day 1 and 2 only.
Carpool and drop-off: festival participants can be dropped off at the Arts Drive passenger loading area.
Take public or hired transportation: Bus, Uber or Lyft to campus.
Plan ahead: If you have an event, please pre-plan with enough time to be dropped off or build-in enough time for shuttle transportation.